Description
Introducing …..  
The CarPC StreamBox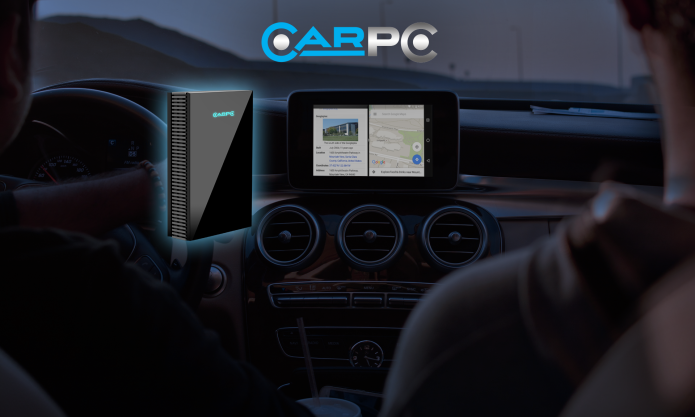 StreamBox – World's First 2-in-1 Car + Home Mini PC!
The StreamBox is  World's 1st Carplay Mini PC & 6K HDMI TV Box for Home! 2-in-1 Car 4G Phone Calling Mini PC + HDMI TV Box.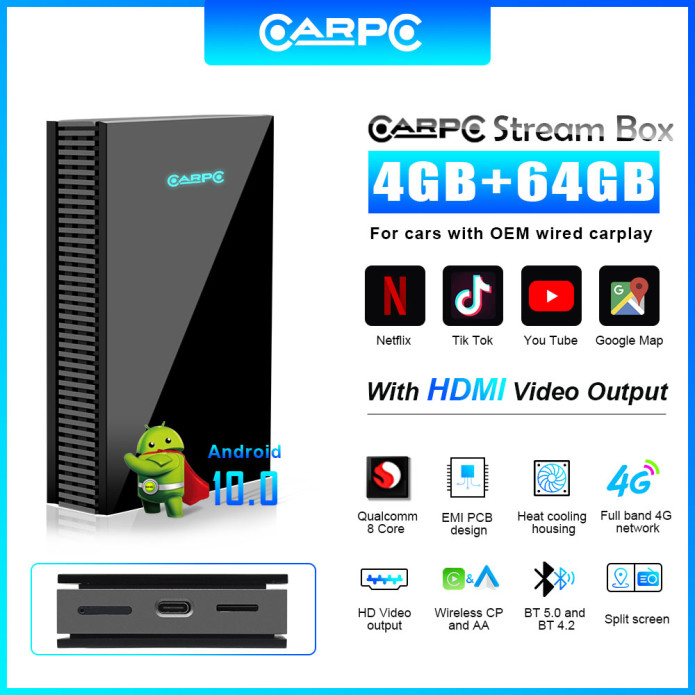 Why Streambox?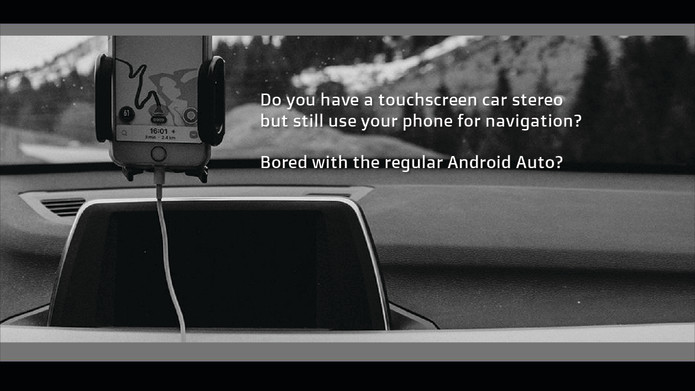 Do you want to be able to 100% free up your phone when driving?
Do you want the option to connect via WiFi, Bluetooth or 4G LTE?
Do you want to be able to stream movies from Netflix, etc?
Do you like the idea of emulating games in your vehicle?
Do you want to be able to download almost ANY APP from PlayStore?
Do you want to add split-screen function to your head unit?
Does your head unit have wired Carplay factory installed?
Do you want a plug-n-play solution?
Then …. Here's your solution: StreamBox!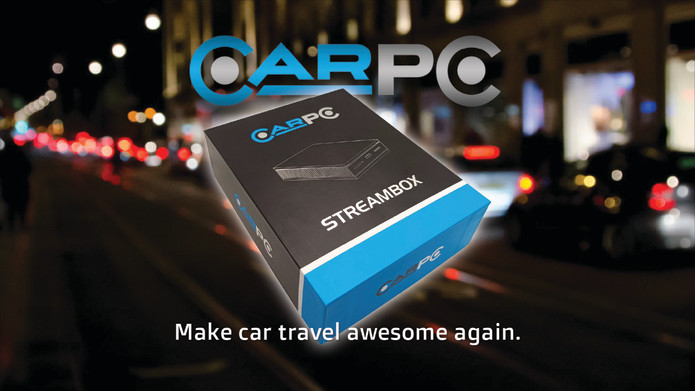 CAN YOU UPGRADE YOUR STOCK CARPLAY?
If you feel your CarPlay in-car entertainment is outdated, sluggish, or feels lacking from using the stock version that it came in, it¡¯s because you are not getting the whole potential of what your large touchscreen display is capable of. One good option is to replace the entire head-unit, and swap it out with an expensive one with all the latest features. It¡¯s a tedious job that may require an experienced technician to dismantle your whole dashboard, and will probably take half a day to install. Definitely not a DIY project for the weak of heart, not to mention that you will most likely void your warranty. Today, we offer the CarPC Streambox.
It's super simple device to hugely upgrade your car's entertainment system, minus the absurd cost and headaches.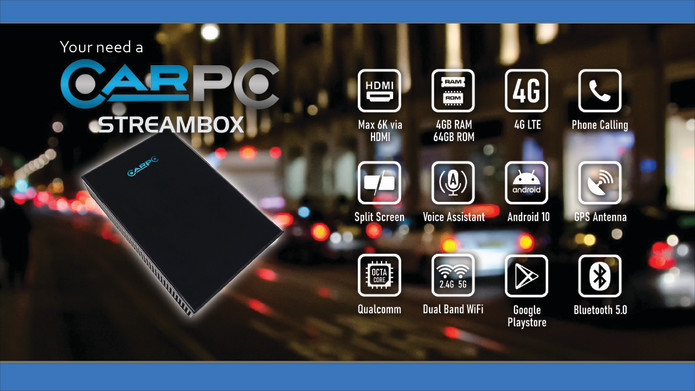 WHY GET A CARPC STREAMBOX?
CarPC Streambox offers a plain-and-simple solution to upgrade your existing dashboard entertainment system with CarPlay to something that has everything you will ever want from a top-end dashboard audio and entertainment unit replacement but without the hassles of installation and set up, costs only a fraction of a full head-unit replacement, and only takes a just few seconds to get up and running. What¡¯s more is that, CarPC Streambox has full 4G connectivity, which means it has all the high-speed data and phone calling capabilities. It also boasts of an HDMI port for high definition output.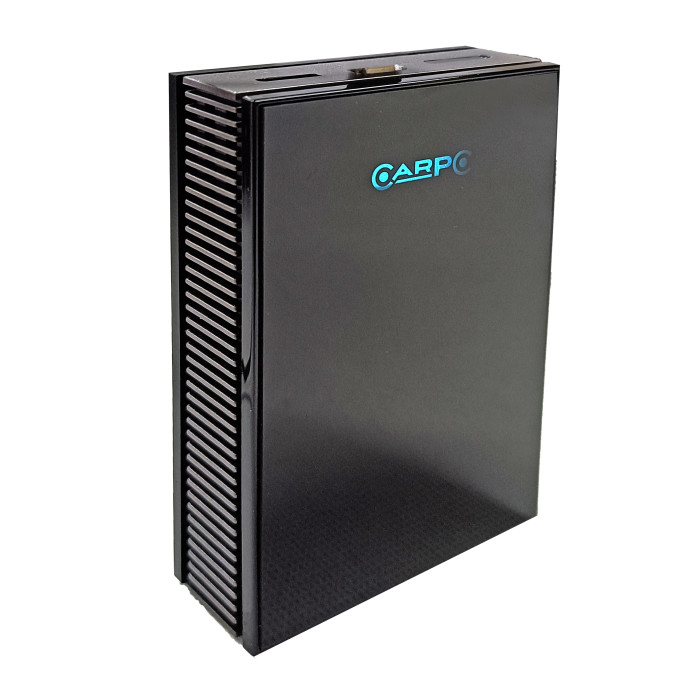 In short, it's a completely wireless internet-connected car computer that can make phone calls.
1. Super simple installation.
2. Costs significantly lower than replacing the entire head-unit
3. Saves you the trip to the dealer or a qualified technician for the upgrade 4. Full access to all apps available on the Google Playstore
5. More capable processing power with plenty of connectivity options
6. Larger storage, RAM, with option to add more storage
7. Use 2 apps simultaneously via split-screen
8. Has a high definition audio-video output via HDMI
9. Make phone calls from your dashboard
10. 4G SIM card ready, completely independent of your smartphone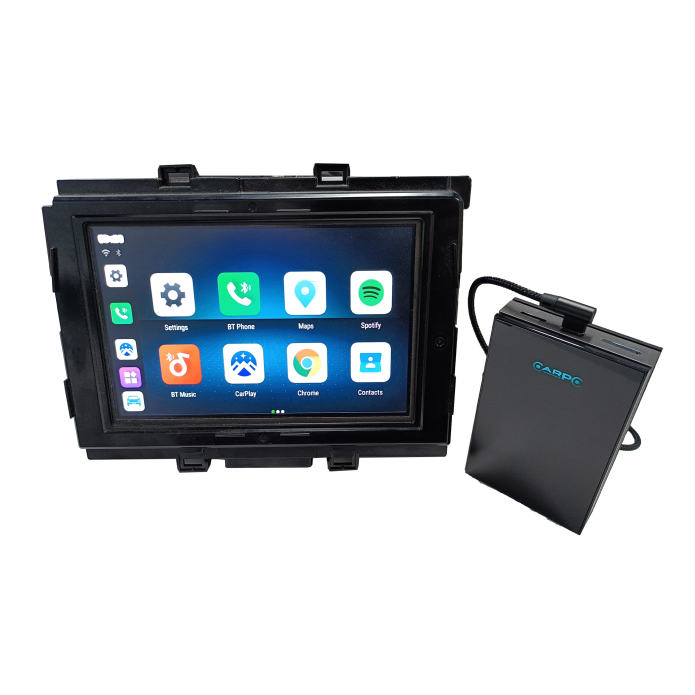 PLUG AND PLAY OUT OF THE BOX
If you know how to plug in a device via USB, you already know how to install and set up the CarPC Streambox. Yes, it's that easy.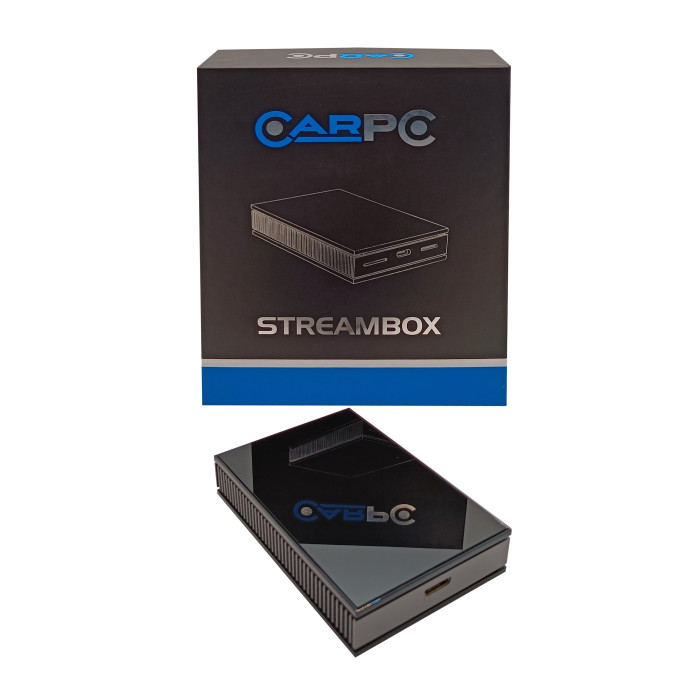 ?
MAKE PHONE CALLS STRAIGHT FROM THE DASHBOARD
Misplace your phone? No problem, call it from the dash. Doing a quick errand to the store and need to ask your significant other in the car what else to get? Call the car.
Just insert your 4G SIM card into CarPC Streambox and start enjoying all the benefits of having the car having its very own phone complete with data connectivity. Think of CarPC Streambox as a completely independent Android phone built into your dashboard.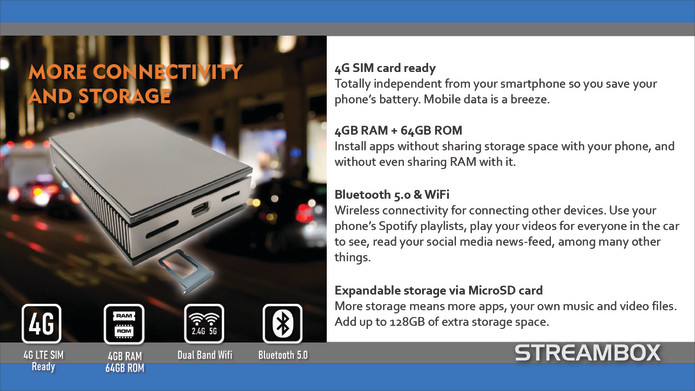 HOW DIFFERENT IS IT FROM AN ANDROID PHONE?
Streambox is specifically designed to be used as an instant upgrade to a factory car stereo. This frees up your phone so you don¡¯t have to share resources if you don¡¯t want to.  It uses its own built-in GPS system so there¡¯s no need for a separate dashboard module.
4G CONNECTIVITY With fast and reliable mobile network connectivity, Streambox makes high-definition videos stream smoother, allows faster app downloads, makes real-time road information when using Maps lag-free.
FULLY INDEPENDENT OF YOUR SMARTPHONE
If you¡¯re the type who doesn¡¯t like to keep connecting your phone each time you get in the car, Streambox is for you. No more fumbling around to find your phone in your pocket, and fiddling with it when you already need to be driving. You used to do this each and every time you get in the car, and can be a real pain sometimes, if not always. Now, with Streambox, everything you need is already in there and setup, ready to take commands the minute you start the car.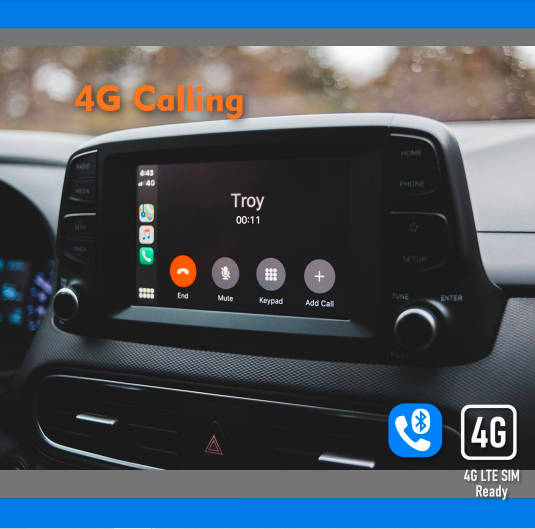 MAKE PHONE CALLS FROM THE CAR
Streambox is fully independent from your smartphone, use a 3G/4G SIM card on the Streambox to make phone calls right from your car¡¯s head unit, even with apps running entirely separate from your smartphone accounts. Can¡¯t remember where your smartphone is? Call it from the car stereo!   WIRELESSLY INTEGRATES WITH YOUR SMARTPHONE
When you pair it with your smartphone app, be it Apple CarPlay or Android Auto, all the functionalities that come along with it are carried over to the screen, all settings and applications installed on your mobile¡¯s car app. What's more, Streambox only makes use of what you need. The minute the smartphone is disconnected, all your previous settings will remain untouched. Perfect when someone else is using the car and they have their own preferences and playlists different from you. Best of all, no additional wires.
HANDS-FREE VOICE CONTROL
Streambox has Google Assistant, so you can enjoy hands-free operation via voice commands. Say ¡°Ok Google¡± to launch apps, send messages, make phone calls, play music, ask questions, enable and disable Bluetooth, and a whole lot more. This makes your car feel a whole lot more like a companion.
GET SPLIT-SCREEN CONTROL
Multi-tasking does not have to be just one screen at a time. Having 2 apps running literally side-by-side on your car's display makes full use of the large screen that your car already has.  It makes perfect sense. You want your map navigation always available to you even while your passenger is choosing a music playlist, or while sending a message to someone to tell them you¡¯re on your way.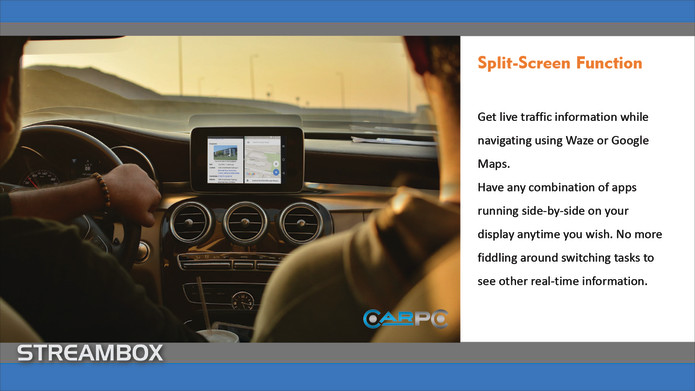 GET FULL ANDROID 9 WITH GOOGLE PLAY
One of the biggest features of CarPC Streambox, is that unlike regular CarPlay, it gives you the freedom to download any app found on the Google Playstore. There¡¯s close to 2million apps to choose from!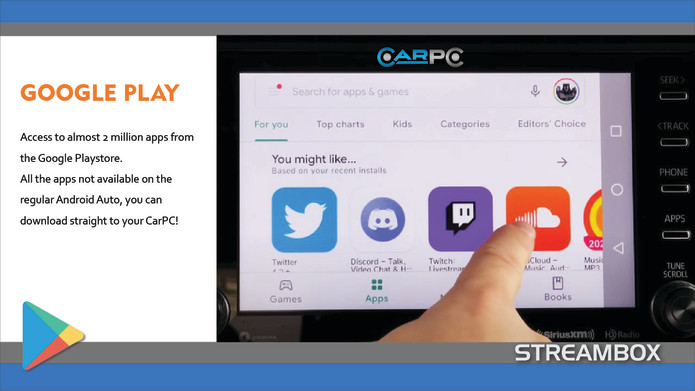 IN-CAR ENTERTAINMENT HAS NEVER BEEN THIS AWESOME
With 4G wireless internet, go ahead and watch movies or TV series on Netflix, Youtube, HBO Go, or any other video-streaming platform (while safely parked, of course), and play sounds on your car¡¯s speakers . If you wish, connect your favorite controller via Bluetooth and play any of the thousands of games available on Google Play.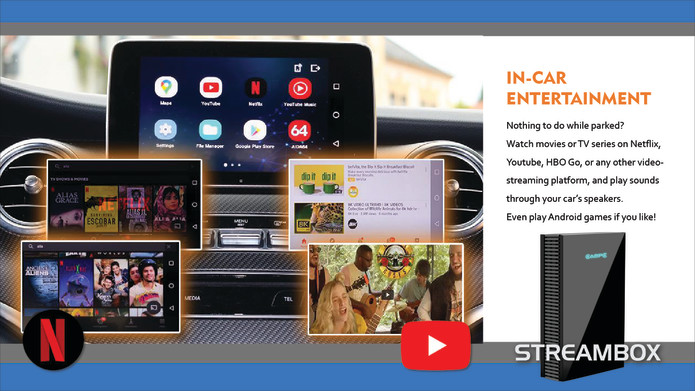 High definition audio-video output via HDMI
Output up to 6K video to a display via the HDMI port, maximize all the entertainment options by plugging in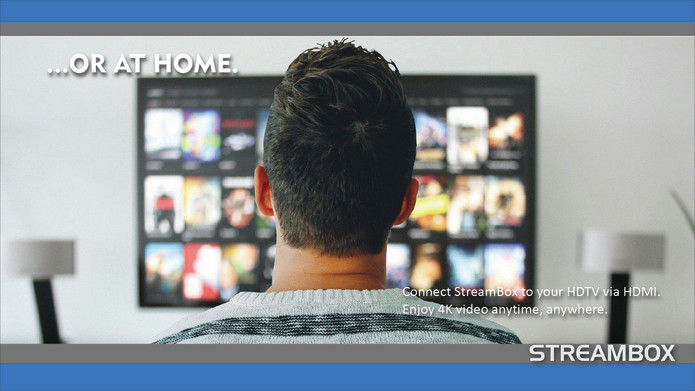 Gaming Emulation
Emulate games on your car stereo. Pair your Bluetooth gaming pad, download your favorite games and get your game on!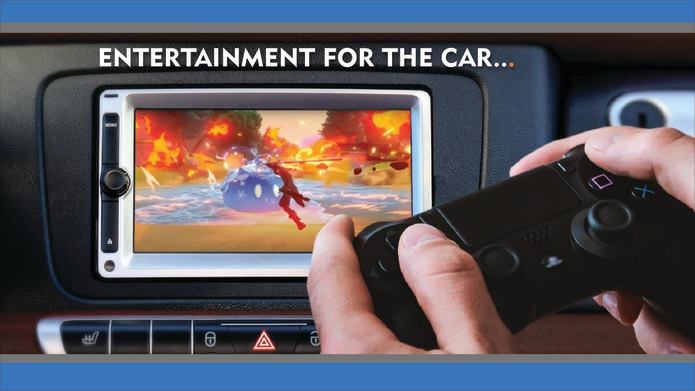 StreamBox Features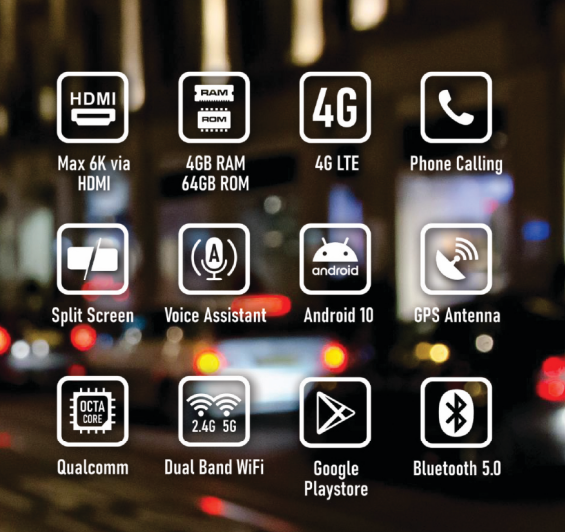 Powerful 2.0Ghz Qualcomm Octa Core CPU
The combined power of eight processor cores running at up to 2.0GHz brings your apps to life! Run apps that are not previously available on the basic CarPlay app.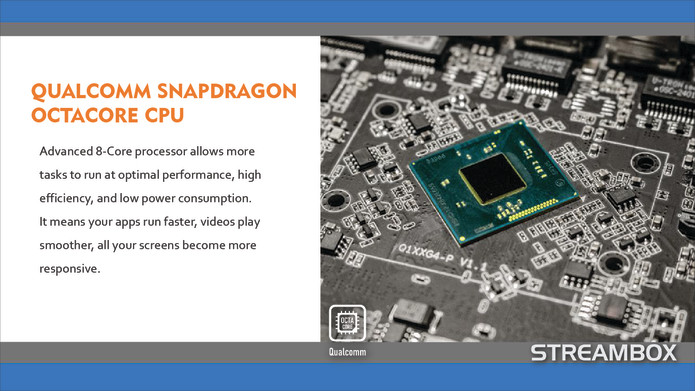 Up to 4GB RAM + 64GB eMMC Storage
Install apps without sharing storage space with your phone, and without even sharing RAM with it. Total freedom!
Bluetooth 5.0 & WiFi
Connect bluetooth headphone devices for those private phone calls made or receivedon the Streambox.
If you like to pair your phone with CarPC's system via WiFi, that's completely possibletoo. Use your phone's Spotify playlists, play your videos for everyone in the car to see, read your social media news-feed, among many other things. Talk about convenience!
MicroSD Card Slot
Expandable storage means if you ever need to install more apps, or put your own music and video files, you just need to slide in a memory card, as much as 128GB big.
4G Sim Card Slot
User your 4G LTE / 3G SIM Card to make calls or simply for data connectivity.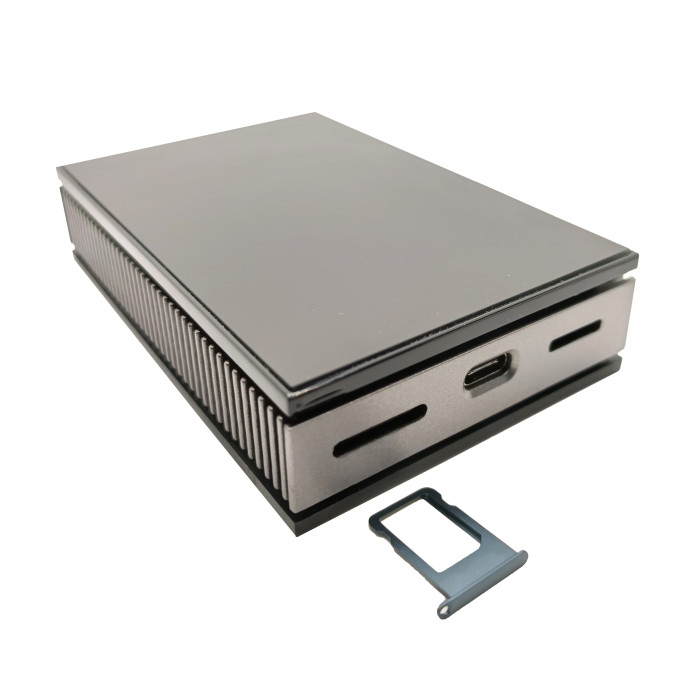 GPS Antenna
Get live-information while navigating. It's not just any GPS antenna, it's a huge upgrade to what's inside your smartphone. It's a powerful antenna. What it means to you is that you always get a stable signal from the geostationary satellites that make positioning work.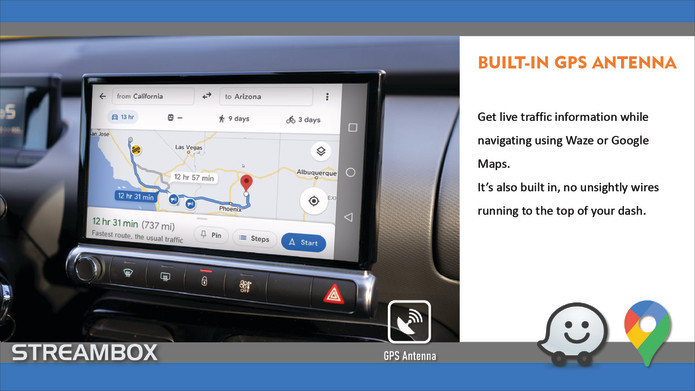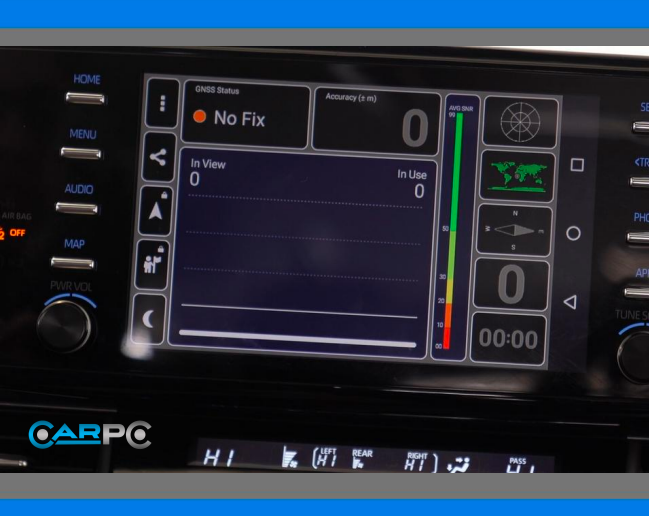 MEMS Microphone
CarPC uses dual MEMS (Micro Electro Mechanical Systems) microphones for a crisp and clear voice input for a variety of applications. Be it for voice commands, live dictations, or calls via messenger apps like Skype and Messenger.
COMPATIBILITY
Streambox supports any car stereo that has wired CarPlay factory-installed.
Check compatibility list:  Streambox List
NOTE: this list may not include newer 2021/2022 models or other stereos that have Carplay factory installed. Your Carplay must be factory-installed for StreamBox to work.
Your Carplay must be wired. BMW and other wireless Carplay stereos are not compatible.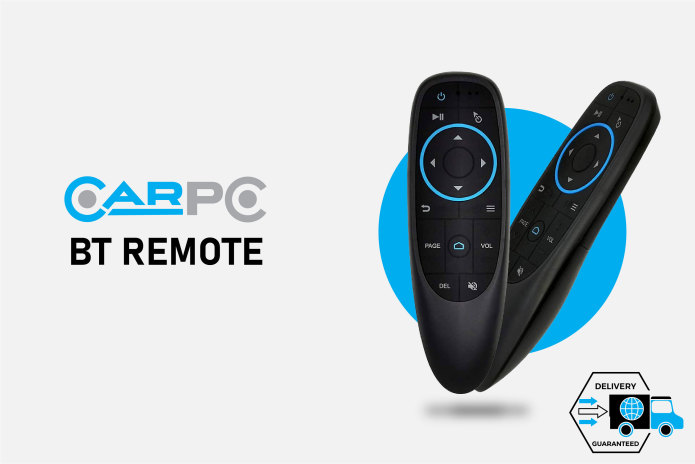 If your car stereo doesn't have a touchscreen, you may need to use a Bluetooth air mouse. You can purchase the above BT mouse as an add-on during checkout.
Tooling & Production Photos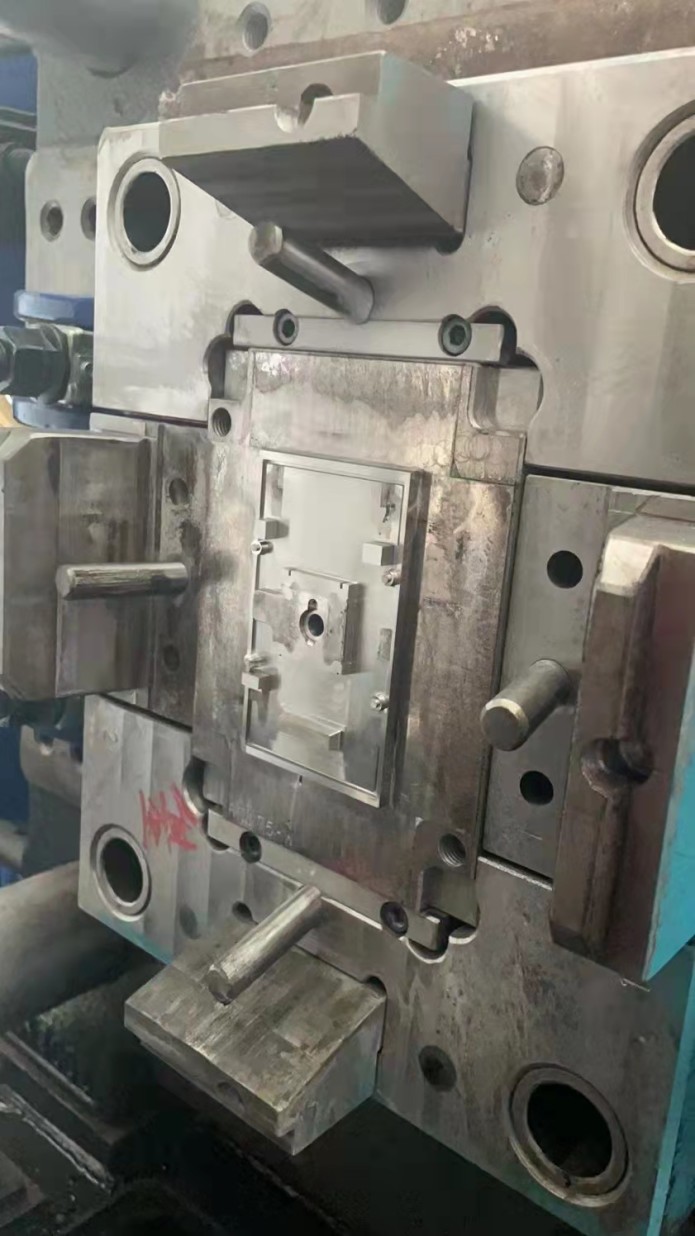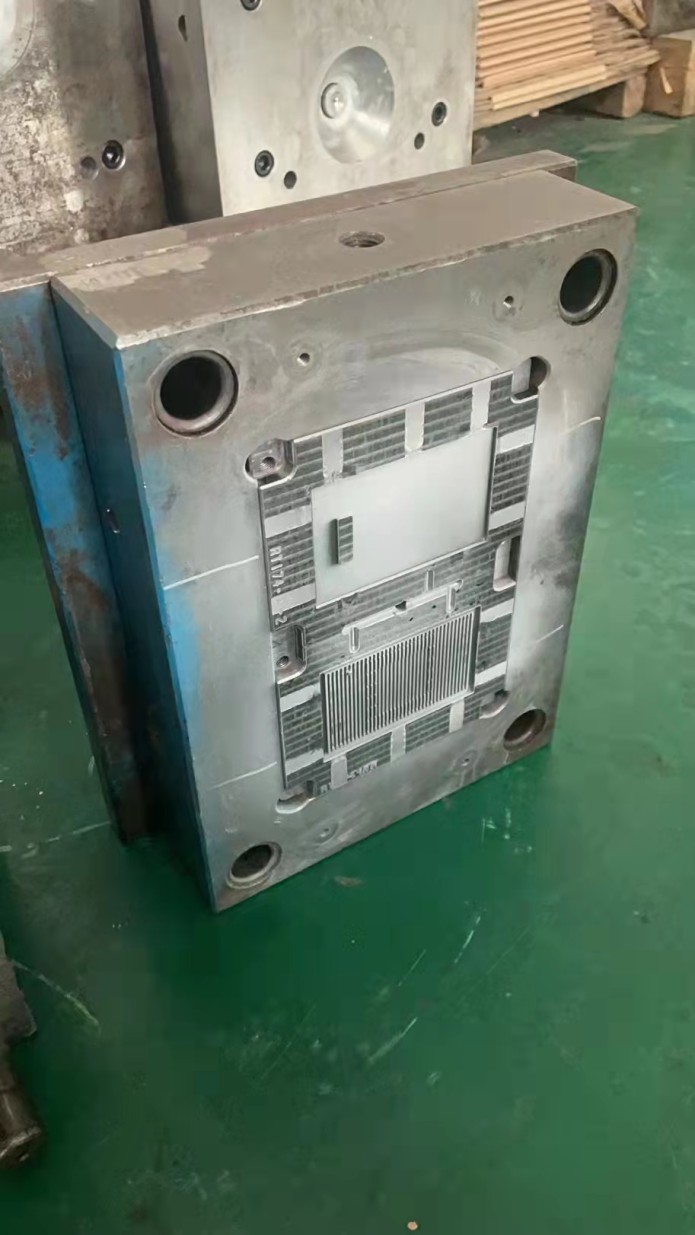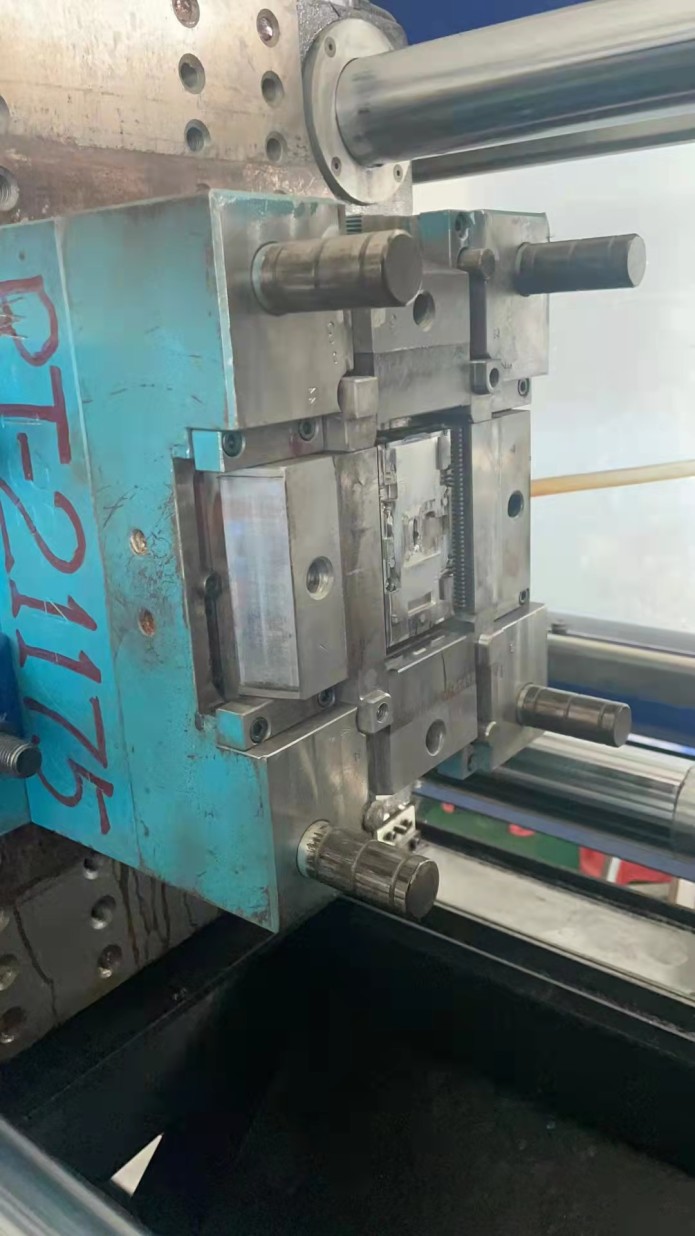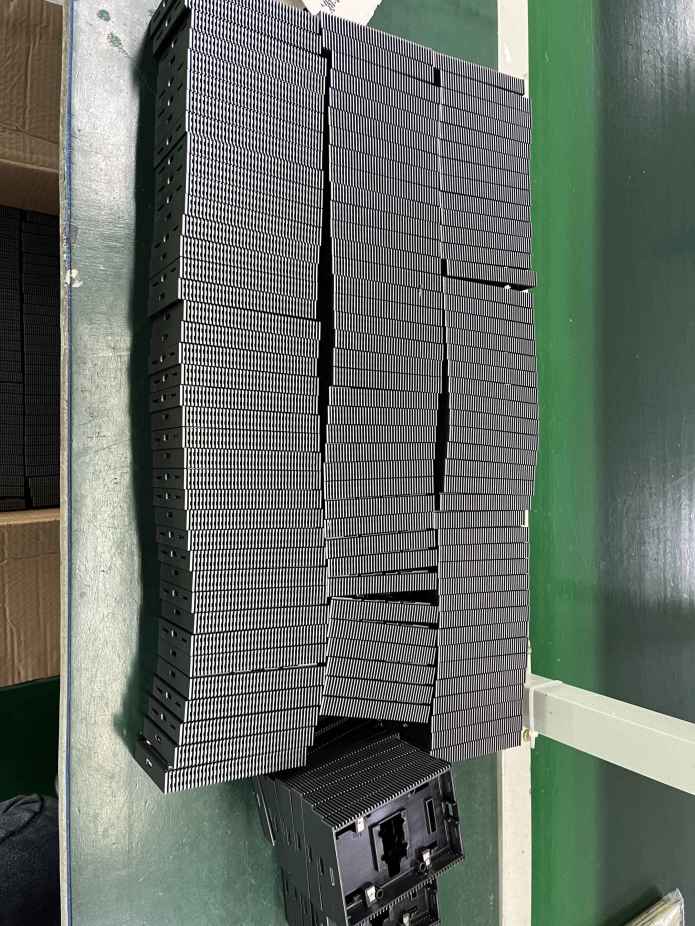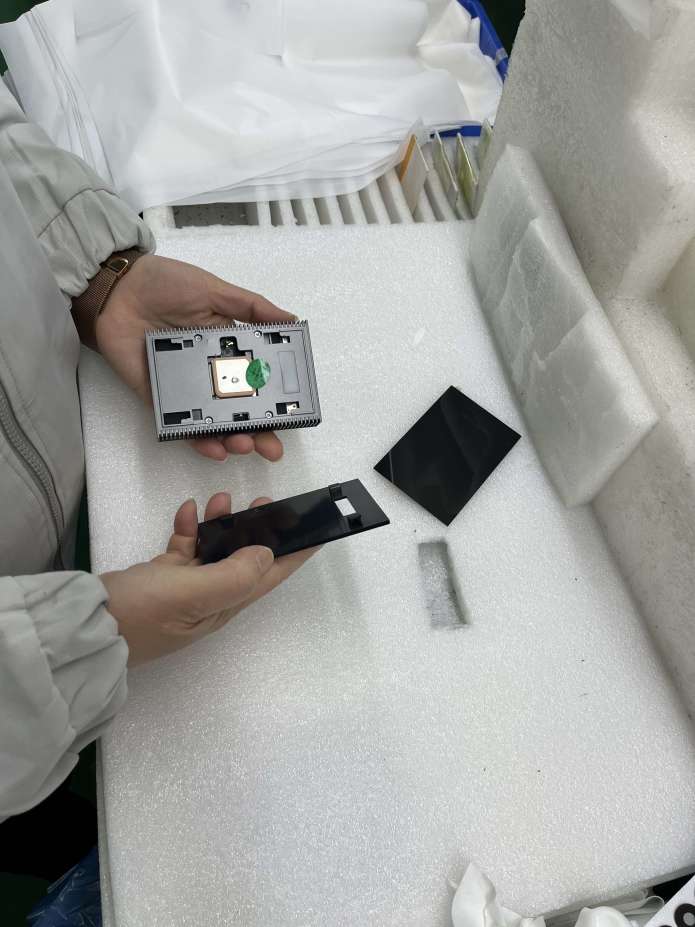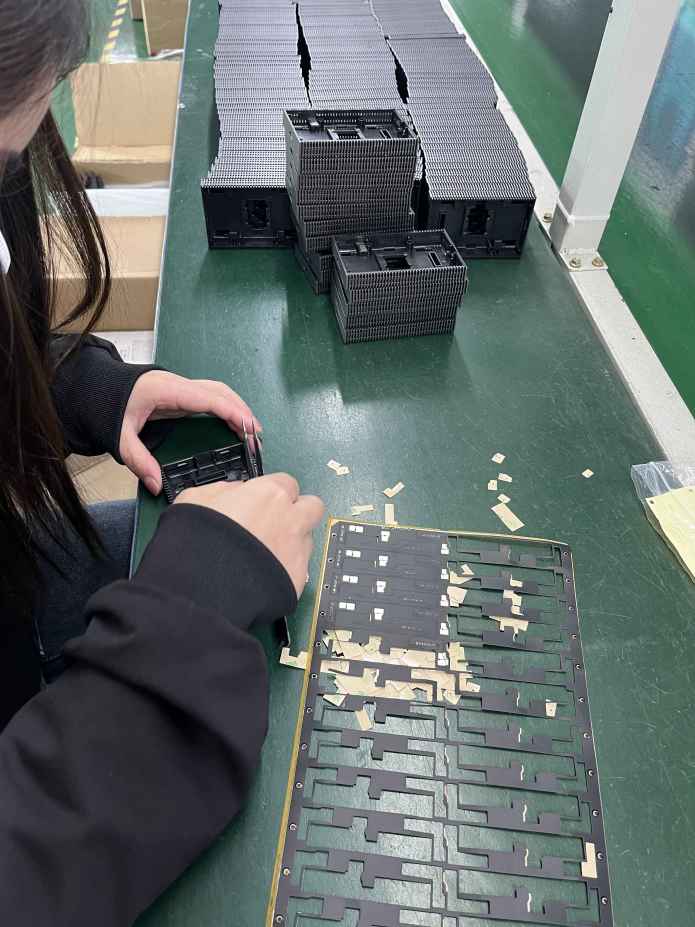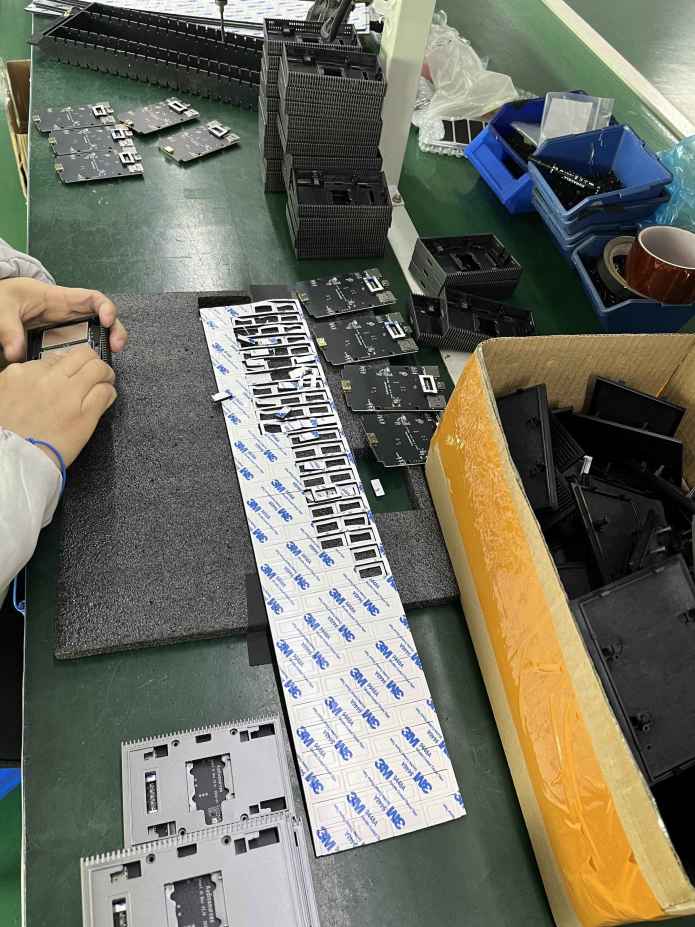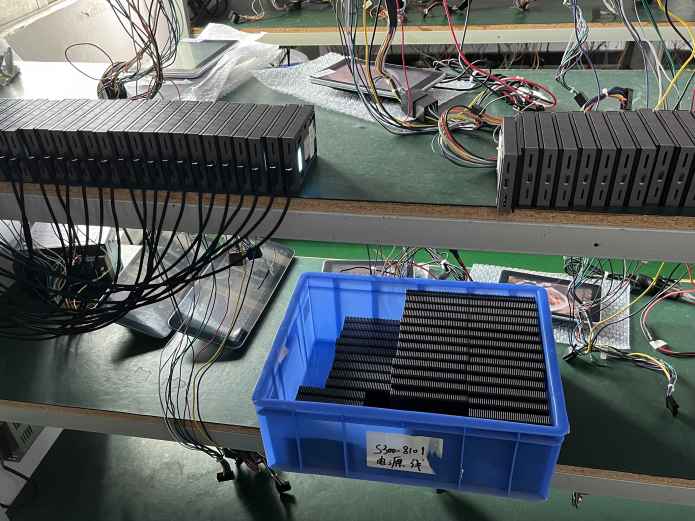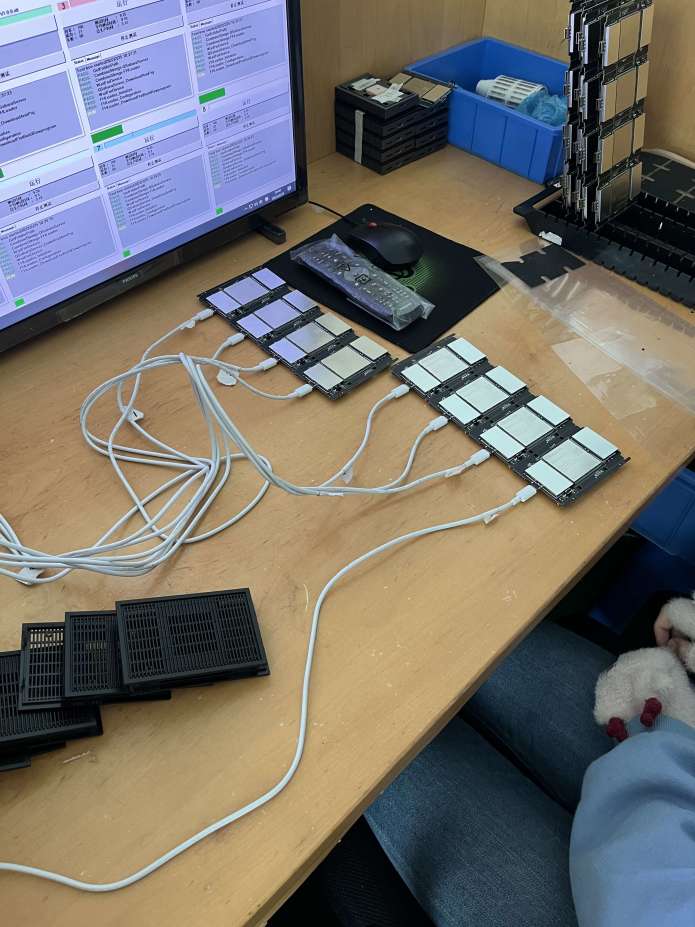 ?
Who we are
CarPC is a group of computer enthusiasts, business people, and designers, wanting to bring better options for car computers than what is on the market today. We are based in HongKong, where technology and traffic are abundant, for our research and design to be up to date with what is happening in the world today.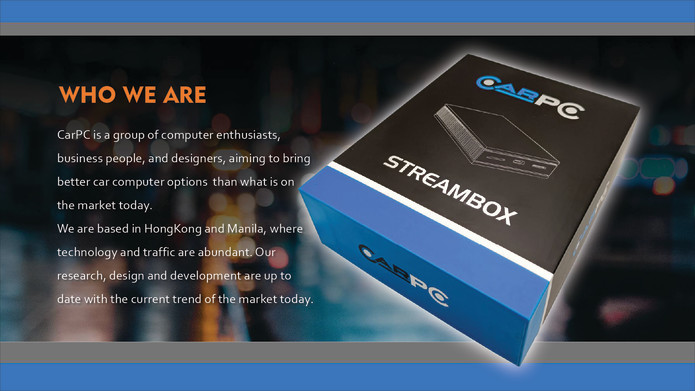 When will you begin to ship StreamBox?
StreamBox will ship immediately after the campaign ends. Select express shipping options if you'd like to receive your unit before the holidays.
Feel free to email any inquiries you may have to: info@carpc.co
Thanks!
CarPC StreamBox

Picture

StreamBox
USB Cable&
Type-C connector

Connection cable

1.USB interface and type-C interface cable (Standard
configuration)
2. Type-C interface and type-C interface cable(Optional)
V 319
Definition
Portable USB Plug and Play solution, suitable for B2C B2B
Wholesales
Solution
Qualcomm Snapdragon SDM450
CPU
8-core 2GHz 14nm,FinFET
RAM
4GB LPDDR4
ROM
64GB eMMC
OS
Android 10.0
Operating Voltage
5V
SIM Card
4G / 3G / 2G SIM
Band of cellular
data
4G: LTE-FDD B1/B3/B5/B7/B8/B28; LTE-TDD B38/B40/B41
3G:UMTS B1/B2/B5/B8
2G:GSM/EDGE 850/900/1800/1900MHz
GPS
builtin GPS antenna and wifi antenna, compeletly hidden
Wireless Carplay
build wireless carplay
Wired Android
build wireless android auto
Mirroring
iPhone Airplay Miracast&Android screen mirroring
WIFI
2.4G/ 5G
Sockets
Type-C Female, TF card slot ( MAX 128G)
Bluetooth
Bluetooth 5.0 and Bluetooth 4.2
HDMI
Support 6K HDMI Video output
Fast charging
YES
Language
English,Russian, Arabic,Spanish,Portuguese,French,
German, Italian,Vietnamese, Japanese, Thai
Traditional Chinese, SimplifiedChinese
Size
101*67*21.4MM